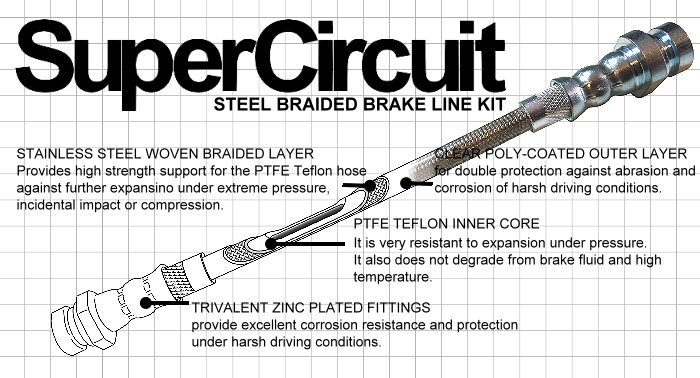 Thank you, you have made the right choice to install SUPERCIRCUIT Steel Braided Brake Line Kit to your vehicle.
Your SUPERCIRCUIT Steel Braided Brake Lines come with 'PRODUCT LIFETIME WARRANTY' with Terms & Conditions:
H Performance Motorsports Sdn Bhd (the 'manufacturer') provides a Limited Lifetime Warranty to the SuperCircuit Steel Braided Brake Line Kit (the "product") that is installed to the initial vehicle, that the product will be free from manufacturing defects for so long as the product is installed to the same vehicle.
The warranty terminates if the product is being transferred to any other vehicle. In the event that the product is defective, the manufacturer will remedy defects in materials or workmanship by repairing or replacing, at its option, a defective product without charge for parts and labour. In addition, the manufacturer may elect, at its option, not to repair or replace a defective product but rather refund to the original purchaser.
No warranty is give for defects caused by normal wear and tear, cosmetic rust, scratches, accidents,unauthorized modification, repair of the product.
No warranty is give for defects resulting from conditions beyond the manufacturer's control, such as,but not limited to, misuse, overloading, or failure to install or use the product in accordance to the manufacturer's intent purposes.
In the event that a product is defective, the purchaser should contact the product dealer from whom it purchased the product or the manufacturer. In the event the product needs to be returned to the manufacturer, the purchaser will be responsible for the cost of returning the product to the manufacturer.
The proof of purchase or a fully filled warranty card with authorized dealer's stamp and signature must be included in the mailing.
DISCLAIMER OF LIABILITY REPAIR, REPLACEMENT OR REFUND AS DETERMINED BY THE MANUFACTURER TO A DEFECTIVE PRODUCT IS THE EXCLUSIVE REMEDY UNDER THIS WARRANTY. DAMAGE TO THE PURCHASER'S VEHICLE AND/OR TO ANY OTHER PERSON OR PROPERTY IS EXCLUDED.